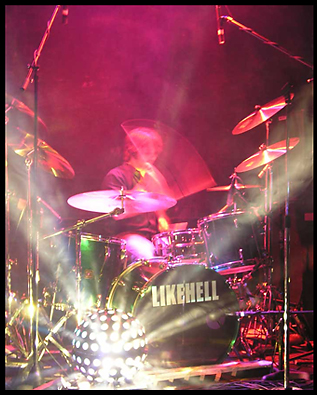 Education: University of Wisconsin. Bachelor of Arts Degree
Institute pour Les Universities American Aix en Provence, France
Endorsements: Paiste Cymbals and Gongs, Aquarian Drum Heads and accessories, and Promark
Drum Sticks and Mallets.
Experience: Extensive recording, performing and touring throughout the United
States, Canada, United Kingdom, Germany, Yugoslavia, Switzerland, the
Netherlands, Belgium, Norway, Sweden, Denmark, France, Greece,
Jamaica and Austria.
Bands:Likehell 1994-Present
God Bullies 1990-1992
Cows 1988-1990
Discography: Likehell- "On the Inside" Lp Kingdom Records 2000
Likehell- "More" Lp Kingdom Records 1999
Likehell- "Twin Town High Vol. 3 Comp City Pages 1999-2000
Likehell- "Feed the Need" b/w "New World Fun" 7″ Diablo 1997
Likehell- "Hell City Hell" Comp Ignition Records 1998
Likehell- "Shuffle This" Comp Mohog Records 1997
Likehell- "Precious Moments" TRG Records 1996
Likehell- "93.7 EDGE" The Best of the EDGE Minneapolis 1996″ KEGE
Records 1996
Cows- "Old Gold" Lp Amphetamine Reptile Records 1996
Likehell- "Snowball's Chance" Lp Spanish Fly Records 1996
Likehell- "Workman's Comp" Comp Big Money Records 1995
Likehell- "Love American Style" Lp Spanish Fly 1995
Likehell- Purple Motorcycle Crash Monster Spanish Fly 1995
Likehell- "Sacred Crown" EP Kingdom 1994
God Bullies- "Ugly American Overkill" European Tour 7″ AmRep 1991
God Bullies- "How Low Can You Go?" Sympathy for the Record Industry Records 1991
God Bullies- "Sub Pop Singles of the month" AmRep Comp Sub Pop
Records 1991
God Bullies- "War On Everybody" Lp AmRep 1991
God Bullies- "Join Satan's Army" Dbl 7″ AmRep 1991
Cows- "Ugly American Overkill" Comp Glitterhouse Records 1991
Cows- "Crunch House" Comp Glitterhouse 1990
Cows- "Endangered Species" 7″ Box Set Glitterhouse 1991
Cows- "Peel Sessions" BBC Studios London England Strange Fruit
Records 1990
Cows- "Effete and Impudent Snobs" Lp AmRep 1990
Cows- "Daddy Has a Tail" Lp AmRep 1989
Cows- "Dope Guns and Fucking in the Streets" 7″ Vol. 3 AmRep 1988
Videos: Likehell- "Let Me Trip" 2004
Likehell- "Drop it" 1999
Likehell- "Feed the Need" 1997
Likehell- "Land of Gold" 1996
Likehell- "Happy Seeds" 1995
God Bullies- "Ordinary Man" 1991
Cows- "Cartoon Corral" 1990
Sound Tracks: Likehell- "Clutch" "Land Of Gold" Title track Taken from SnowBall's
Chance Lp 1998 HBO/Cinemax
Likehell-"The Back Lot Murders" Dimension/Universal Films. 3 songs. 2001